On Sunday 8th September the 10th edition of Montane Tor Des Geants kicked off. Over the years this epic race has been added to many a running bucket list and it certainly deserves its reputation as one of the toughest races out there, with 330km and 24,000m of ascent for runners to contend with.
There are 4 races at the Tor this year. As well as the headline race there's Tot Dret (130km with 12,000m of ascent with a cut-off of 44 hours), Tor30 (30km with 2,300m of ascent and a cut-off of 8 hours) and as a special addition this year there's Tor Des Glaciers. Tor Des Glaciers is 450km with 32,000m of ascent, which should test even the most hardened of runners.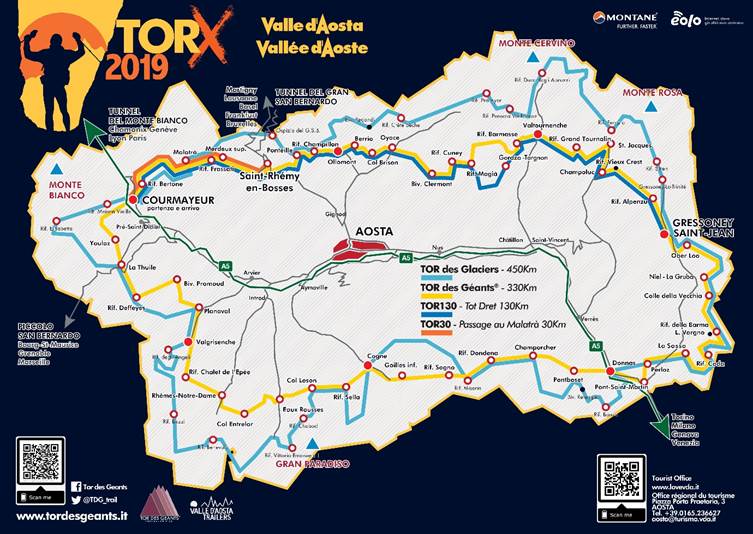 So what makes this race so difficult and so feared? Apart from the obvious answer of the distance and the ascent, it's a non-stop race which means that the runners choose when to stop and rest, rather than taking the race in set stages like multiday races. This makes it a game of strategy at the sharp end, with the leaders having to use their experience to balance the minimum amount of sleep with safety. And sleep deprivation will certainly play a part.
Another element is the terrain. These aren't smooth, groomed trails; there's some very gnarly technical terrain in the Aosta Valley, which is hard going physically and mentally day after day.
It will also be interesting to see how the weather affects the race this year. As many may know, the weekend's Ultra Tour Monte Rosa had to be cut short in Gressoney on Friday because of snow on the high passes. The TDG runners headed out into a cold and snowy night last night and at the time of writing 80 runners had dropped out already, including previous winner Liza Borzani.
This race attracts some of the best endurance runners in the world and this year both of the defending champions – Sylvia Trigueros and Franco Colle – are back. As is Galen Reynolds, who came second last year and won this year's Dragon's Back Race (see our interview with him). He lives in the UK, so we can kind of claim him, especially as he is currently in 2nd place behind Oliviero Bosatelli in the men's race. Runners we can definitely claim as British are Donnie Campbell and Nicky Spinks. Both stand a chance of doing well and at the time of writing Donnie was in 14th and Nicky 10th woman.
Silvia Trigueros is currently in the lead in the women's race, in 10th place overall. Just behind her in 11th is John Kelly, who attempted his Grand Round in the UK earlier this year.
There's a strong team from sponsors Montane again, with Galen, Kaouta Toriumi (5th last year), Jenn Gaskell, Simon Gfeller, Tom Hollins, Julio Cernuda Adlecoa, Stefano Serena and Luca Molinari.
It's a great race to follow as it unfolds. You can do that here with their live tracker. There are also webcams in some of the life bases and villages, if you want to see what exhaustion really looks like. You can find all the links at the Tor Des Geants website.
And if you want to know what it takes to complete a race like this, read this interview with Natalie White, who completed it in 2016.
Huge respect to all runners who take on this epic race. We will be bringing you news about the race throughout the next few days.