Few races instill fear and wonder in the same way as Montane Tor des Geants. I mean, sure, there are lots of hard races out there, but most are over in a day or maybe two. There are tough stage races, but they usually factor in overnight stops. Tor des Geants is really something special and completion is something you can be proud of for the rest of your life.
So what is it that makes this race so hard? Firstly, there's the mileage. The distance of the race is 205 miles. And let's just combine that with our second Tor fact: the ascent you will face on the race is 24,000m. 205 miles on the flat would be pretty hard, but when you factor in that ascent and the often technical terrain, it's an unimaginably difficult distance. Some of the climbs will take you as high as 3,300 metres, where everything feels hard work in the thin air, and there are 25 mountain passes to cross over 2,000m high. Those corresponding descents will cause havoc with your quads.
Which brings us to Tor fact number three: there are no set stages, it's a non-stop race. Unlike stage races, where you can finish that day and collapse into your sleeping bag for a well-earned rest, the Tor des Geants clock never stops ticking. Obviously you need to factor in some sleep at the lifebases, but it's likely to be a short nap before you're up and off again. There's an ultimate cut-off of 150 hours but when you stop and for how long is completely up to you.
So, the distance is huge, the ascent is enormous and it's a non-stop race. Let's bring in the next difficulty factor: the weather. The route for the race is through the Aosta Valley, starting and finishing at Courmayeur and following Alta Via (that's 'high routes') number 1 and 2. The weather in the valley, and at the sort of heights we're talking, is notoriously changeable in September. Runners will have to contend with heat, snow, high winds, extreme cold and probably every other type of weather in between. If any of you are thinking 'this doesn't sound that hard' you are most likely an idiot.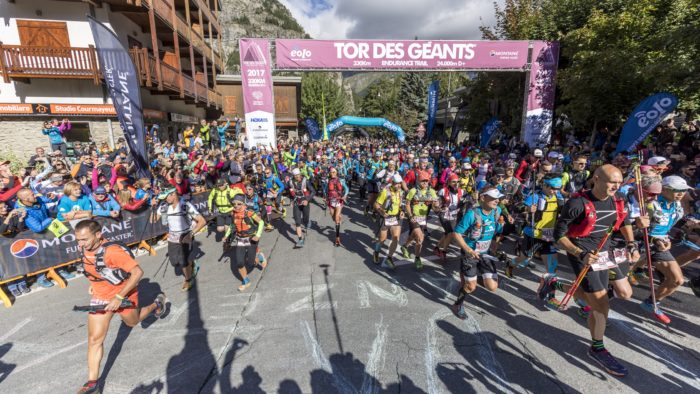 There is an 'easier' option, which is the Tot Dret race. An 80 mile race with 12,000 metres of ascent, which if you were talking about it in comparison to anything but the Tor des Geants, would be classed as 'very hard'. The first running of this race took place in 2017 and it follows the latter part of the main race. This year will see 500 runners take on Tot Dret.
750 runners are selected via a lottery system for Tor des Geants but only around 40% will complete it (see above). The race sets off at 12pm on Sunday 9th September and we will be bringing you news from the race throughout. We'll be following the British runners, who include Jez Bragg, Jenn Gaskell, Paul Tierney and Tom Hollins.
Find out more about Tor des Geants here.
Header image copyright Montane/Roberto Roux