A group of four runners led the way after the second loop of a potential five at the Barkley Marathons at Frozen Head State Park in Tennessee.
They were headed by American ultra-running legend John Kelly, the 15th and last person to finish the event back in 2017, who was alongside his great friend and rival Damian Hall, this year's Spine Race winner from Britain.
Big names on schedule early on
And joining them was Spain's Albert Herrero Casas, while Switzerland's Christophe Nonorgue was just three minutes back.
The quartet all headed back to the iconic yellow gate in a fraction over 20 hours after what was a counter-clockwise lap as they bid to complete the event in under 60 hours.
There was then around a 40-minutes gap to the next three runners which – providing Jared Campbell is Keith Dunn's 'Nondescript guy' – were the three-time finisher, plus Karel Sabbe and Joe McConaughy.
At 21 hours and 13 minutes was Aurelian Sanchez, closely followed by Jasmin Paris who is nicely on course for another 'fun run', but potentially she could become the first woman to finish the event.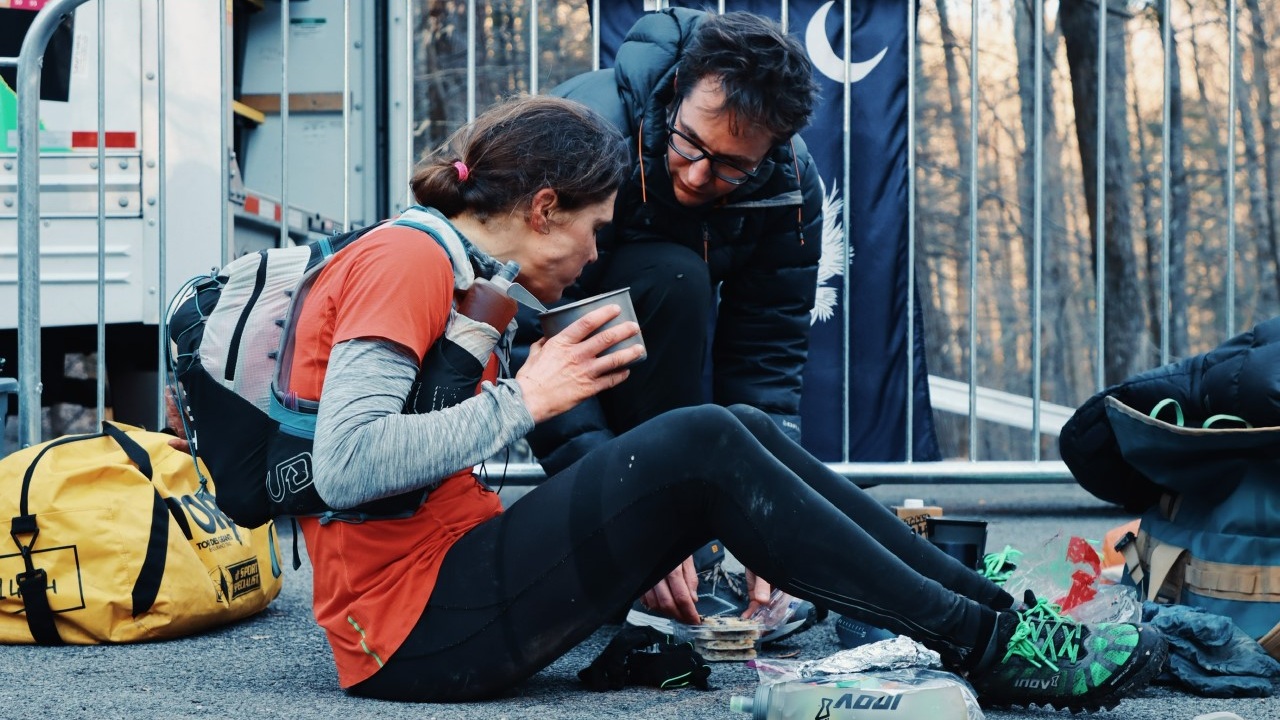 Pavel Paloncy is going well again too, finishing loop two in 21:20:30, with Guillaume Calmettes and Tomo Ihara next back at the gate two hours and 26 minutes later. Aaron Bradner completed loop two in 23:53:03.
Johan Steene and Piotr Chadovich narrowly made the cut-off, finishing loop two in 23:33:28 and turning it round with under a minute to spare to continue.
10 runners failed to complete loop two in the allotted time and were confirmed as DNFs – Harvey Lewis was 10 minutes over the limit and subsequently tapped out and Nicky Spinks was also among them along with fellow Brits Katie Wright and Spine Race winners Tom Hollins and Eoin Keith.
Cold starts to bite
But conditions were getting seriously cold, with Keith Dunn – in what is effectively the race's official Twitter feed – saying: "The temperature plummeted overnight again. The water jugs at the Tower are completely frozen."
That's also having the knock-on effect of some anxious moments at the end of each loop as the book pages are brought back for Lazarus Lake, with Dunn adding: "What we are not getting at the #BM100 is a lot of good runner quotes. It's been really cold and pages stick together, creating a bit of stress as Laz counts them out. Beyond that it's been all business."
In terms of those who have already 'tapped out' of the race on loop two, we know they include a former finisher in Nickademus de la Rosa, who won the race in 2013.
Check out our in-running coverage and read about how the race unfolded via the links below:
Start | Loop 1 report | Loop 2 report | Loop 3 report | Loop 4 report | Loop 5 report