Jo Meek continued to chase the Cape Wrath Ultra women's record while David Parrish extended his lead of the men's field after day four of the 400km race through the Scottish Highlands.
Meek has now set women's stage records for days two, three and four, completing the 35km day four route from Achnashellach to Kinlochewe in a time of 05:16:37.
Parrish did so in a time of 04:41:29, once more extending his lead overall ahead of second-place Spaniard Fernando Alvarez.
You can follow the action live on the Cape Wrath Ultra race tracker.
Meek and Parrish dominant
Meek and Parrish started day four with strong leads, and they only stretched their dominance over their respective fields in the Cape Wrath Ultra as they hit the halfway point of the race.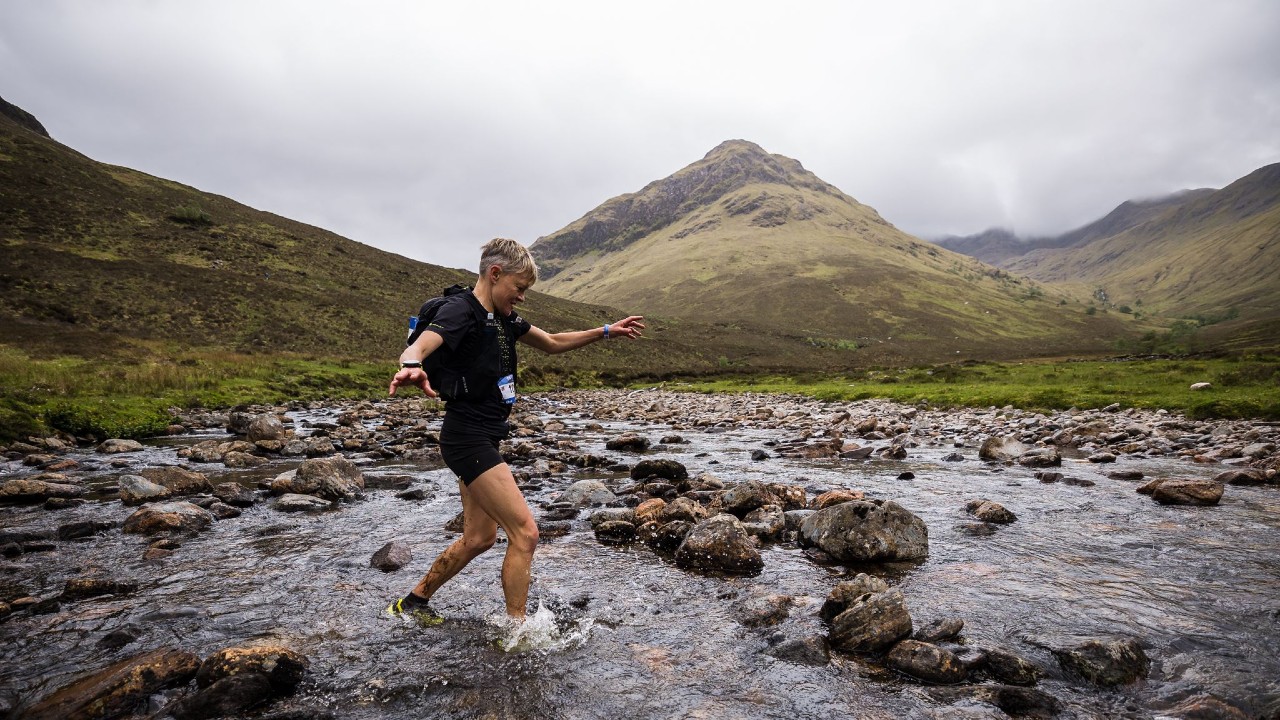 Day four saw runners tackle a 'short' 35km, but they faced the prospect of the steep Torridon hills and around 1,298m of elevation gain on the day.
This was no problem for Meek, who finished the route around 35 minutes ahead of second-place Elaine Bisson, who completed the fourth stage in a time of 05:51:58.
That brought Meek's total running time in the Cape Wrath Ultra to 25:54:43- fourth in the overall standings – and saw her extend her lead over second-placed woman Bisson, who sits at 28:19:57. Jana Szczepaniak is still third, now on 29:35:15.
Parrish's overall lead only received a nine-minute boost; he arrived into camp four after 04:41:29, with Alonso finishing third on the day in a time of 04:50:29.
It puts Parrish on an overall Cape Wrath Ultra time of 22:53:51, some hour and twenty-three minutes ahead of Alvarez who third-place overall Sam Hill now has firmly in his sights; he was second-fastest on day four and is half-an hour behind on the overall table.
Longer day five
Day five gives runners a longer task, as they head into the Fisherfield Forest area.
40.8km long and with an elevation gain of 1,091m, it will take runners through the most isolated parts of Scotland, and end just south of the port village of Ullapool.
Stage reports
Day one | Day two | Day three | Day four | Day five | Day six | Day seven | Day eight
Standings after day four of the Cape Wrath Ultra
Men:
David Parrish (GBR) – 22:53:51
Fernando Alvarez (ESP) – 24:16:55
Sam Hill (GBR) – 24:47:52
Women:
Jo Meek (GBR) – 25:54:43
Elaine Bisson (GBR) – 28:19:57
Jana Szczepaniak (GBR) – 29:35:15