Continuing the discussion…
A couple of weeks ago we published an article about how women's ultra running often fails to get equal billing with men's. As this is such an important topic we wanted to follow up on it, to explore the subject a bit more. In the coming weeks we're going to be bringing you a series of articles about equality in ultra running and some suggestions for making it a more level playing field.
In our original article we talked about how we don't think that women's achievements getting overlooked is deliberate in any way, we think it's more accidental. Often people are just unaware because of a lack of coverage. A friend of mine, who is a big advocate for women's running, recently said that he just wasn't aware that a British woman (Beth Pascall) had come 4th in the UTMB this year, though he had seen a lot of coverage of Damian Hall coming 5th. There could be a huge number of reasons for that, but it's a good example of how there isn't an equal balance of reporting, even with one of the biggest ultra races in the world.
Ultra running isn't that widely reported anyway, at least in the UK, so that's the first obstacle. Add to that the fact that women are highly likely to make up a smaller percentage of the field than men (in the UTMB it's only 10% but something like 20% isn't uncommon in many ultras). Also throw in the fact that a lot of the coverage of a race is going to be at the front of the field – I've been on media buses following races and they usually follow the first few runners so you rarely get to see many women. Already there are lots of obstacles there.
And yet, it does still feel that it wouldn't take a massive amount of effort to try to even up the coverage and redress this balance. After all irunfar do it very well, we try to do it, coverage of other sports like triathlon often seem to do it well. We decided to speak to some runners to find out about their experiences and get their suggestions about how to make changes.
Anna-Marie Watson, top 10 finisher in races such as UTMB and Transgrancanaria, 2nd and 5th place finisher in the MDS, among many other impressive achievements in running and triathlon (heard of her? You should have!), spoke to us about her own experiences. She told us that in 2015 there were an unprecedented five British women in the top ten of the MDS (Anna-Marie, Rebecca Ferry, Melissa Venables, Gemma Game and Claire Morrissey). Excitingly there was a TV interview set up with them (for a British breakfast programme), only for it to be pulled at the last minute for another story. As Anna-Marie puts it, 'this could have been a unique opportunity to showcase the breadth of women in multi-stage running and offered a moment of inspiration to the general public over breakfast, though disappointingly the moment was lost.'
Many of Anna-Marie's achievements seem to have gone under the radar, and she says 'sometimes it's hard to ignore the critical monkey sat on my shoulder whispering; "you're still not good enough" to warrant any recognition or, conversely, "no-one really cares".' This can be the message that's being sent out when women's achievements are overlooked.
Even when women do capture media attention there can be a disparity in the way they're treated. For instance, Susie Chan told us 'one thing that I get asked with some frequency is how I fit 'family life' around running. Ie how can you be a mother and runner? I don't mind answering this from the perspective of other mums getting advice on how to train around things. But I have never heard a single male runner asked this question. It's that undercurrent of 'women fitting it in around their life' that can perhaps lean towards them not being taken as seriously as athletes as men. '. Similarly, Lizzie Rosewell, who's done research into female participation in ultras, mentioned the fact that athletes like Jasmin Paris are often referred to as 'champion running mum', rather than 'possibly the greatest female fell runner ever'. However, you never see male athletes referred to as 'ultra running dad'! Why are male and female runners with children not looked upon in the same way in 2018?
So what needs to happen to raise the profile of women's ultra running, so that it's on a par with men's? Should we be focusing on women separately, to give more emphasis to the sometimes overlooked sex? Lizzie Rosewell says 'Runner's World have a separate 'Women' tab on their website – do the main running sections not apply to us?'. I wholeheartedly agree with this. The focus should be on equal coverage, not separate coverage. And to the guy who suggested on Facebook the other day that men and women should have different cut-offs (with women having longer) during ultras, I feel that's missing the point. I feel that the issue is that we want more women to participate and get coverage on an even footing, not make special/separate treatment for women.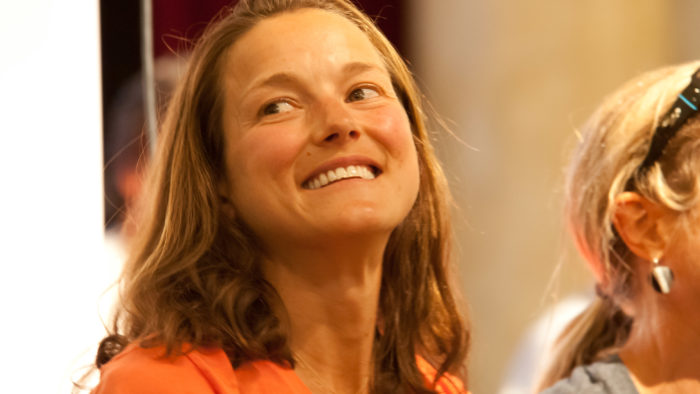 And it's not about making up the numbers. I spoke to Sophie Grant about this topic recently and she said that she wants more women to participate so that she can race against more women and against the best possible field. She's going to write more about this for us. I also spoke to Mimmi Kotka, who told me that it was watching Rory Bosio come 7th overall (and break the women's record) in the UTMB in 2013 that made her want to take trail running seriously. Women like Rory have inspired a generation of ultra runners, both male and female, and that can only happen if women like Rory get the attention and praise they deserve. As Lizzie Rosewell found from her research, 'if she can't see it, she can't be it'. Equal coverage and equal recognition matter to our sport.
We're looking forward to discussing this issue more over the coming weeks.