People who don't run can find it quite hard to understand why we runners go out in all weathers to do something which will definitely ruin our knees anyway. These same people don't understand why we run at Christmas when we could be sat on the sofa watching TV, mainlining Quality Street and listening to their adorable children singing songs from Frozen. This is why we need to make a plan.
The period around Christmas and New Year is on the one hand a very good opportunity to spend time with friends and family, but on the other hand it's also a very good time to get some running in without the pressure of work (for some). And if you can get that balance right, everybody will be happy!
First things first, parkrun is a wonderful thing all year round but particularly at Christmas time. It's a nice, sociable thing to do and you can drag family members with you. You're happy, they're happy, it's a win-win. There will be parkruns on December 21st and 28th and some parkruns will be staging extra events on Christmas Day and New Year's Day. Check out whether your local parkrun is taking part here.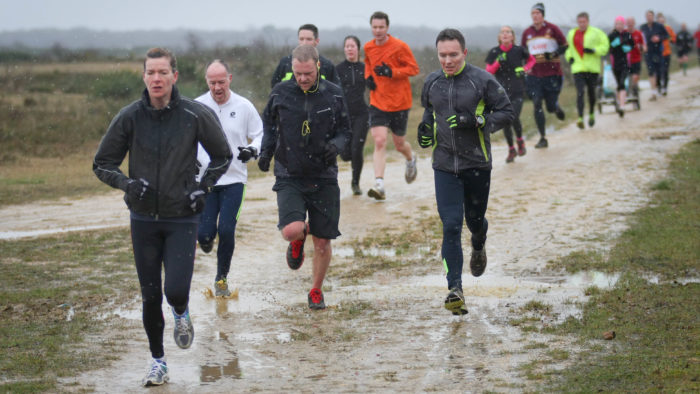 There are also a huge number of festive themed runs around. There are obviously a lot of Santa runs, which are great for their charity fundraising but possibly not so great for the environment because of the Santa suits they give away. Other festive events (which are still open for entry) include:
But if you just want to get out for a run, this should be easily done with some good planning. Get up and out early – and then feel virtuous all day – or get the turkey in and the veg prepped and you've got a couple of hours to play with. Other opportunities include 'I just need to nip to the shop to get some more milk', 'oh no, I thought it came with batteries, I'll just have to nip to the shop' and 'I've just remembered I need to hand deliver a card to somebody who lives on my circular 10k route'.
Seb Coe famously trained on Christmas Day to make sure none of his rivals got an advantage over him. For many of us, training on Christmas Day is more about cramming in some quality me-time. Good luck.
Header image copyright Funk Dooby (CC BY-SA 2.0)